Dr. Nancy Stutz-Martin, APPRN, BC

Executive Director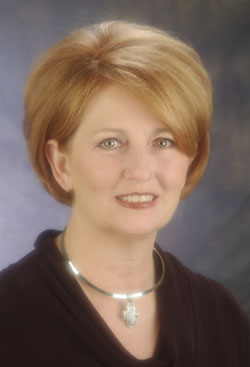 Nancy received her Doctoral Degree in Christian Counseling from Covington Theological Seminary, a Master's Degree from Vanderbilt University and did post graduate training at Sloan Kettering Cancer Institute, The Grief Recovery Institute, and Harvard Medical School. She is an educator, researcher and author. Nancy is a board certified Psychiatric Nurse Practitioner, maintains a private practice, and consults extensively for hospice, the medical community, schools, and the faith-based community. She is a certification trainer for The Grief Recovery Institute, professor at Covington Seminary, and a member of the American Association of Christian Counselors. Nancy's heart is working with church leaders to facilitate transformational living within the Body of Christ.
From the U.S.A.F. Chief Chaplain Services to Singapore, she has shared this message of hope and healing with believers around the world. Her mission is to bring recovery to people of faith and to those whose faith has been affected by loss. Nancy's testimony is evidence of her special calling to the mission field within the spiritual community.
For twenty-three years, Nancy worked for Memorial Hospital as a Medical Technologist and Psychiatric Nurse Practitioner. She served on the Ethics & Genetics committees for several years. Ten years ago Nancy retired to pursue full-time ministry.
Nancy has served as President of Missions in her church and participated in mission trips to Singapore, Israel, Haiti, Mexico, and Africa. She also works with the Messianic Congregation leadership in Israel providing Grief

£

Recovery® Specialist Certification Training and workshops. The project expanded into reconciliation work among Arab and Jewish believers. She has been asked to return to teach in the Israel College of the Bible's Messianic Counseling Post Bachelor Degree program.
Nancy's husband Tony serves as an elder in their church, while her son Rev. John Stutz is a Praise and Worship Pastor..
All Board Members are Certified Grief

Recovery® Specialists and represent the areas of finance, business, clergy, medical, mental health, and education.
Vice President /Secertary
The mission of Sunrise at Midnight is to provide to individuals and their support network a comprehensive wellness program addressing issues related to loss and personal life events.
The vision of Sunrise at Midnight is to encourage, equip, and empower individuals, families, and communities by providing the life skills necessary to address issues of loss and change.
Emotion or Intellect
Unresolved grief is about the entire range of emotions that attach to all relationships. In our society we are sometimes taught to believe that intellectual understanding about grief will help us become complete with the pain caused by loss.
Using very specific actions that lead to completion of the pain, grievers are then able to get to their "heart" and recapture a sense of meaning and value, even though their life may have been dramatically affected by the loss that brought them to our program. Our focus is NOT designed to help the griever "cope."
The Grief Recovery Method® is designed to "move them beyond" and enrich their lives.
Life Skills
We teach Relationship and Life skills that are practical ways of how to deal with the "living" as well as those relationships that have ended or changed.
Outcome Measured
The goal of the Grief Recovery Method® is to "complete the relationship" that has ended or changed.
Life Changing Opportunity
Participation in the Grief Recovery Method® Program offers the chance for a richer and more fulfilling life.